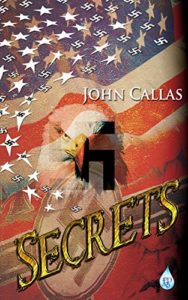 Filmmaker John Callas is one of the busiest men in Hollywood. He's not a household name like Lucas, Coppola, or Spielberg, but he has done more than most and is well-known throughout the entertainment industry as one of the "nicest men you'll ever work with..". John is originally from New Jersey and at age 13 he was sent to military school (they thought he had a "discipline problem", hard to believe). He spent 3yrs. there until he went to Webster Academy in Massachusetts to finish his High School. It was then off to Dean College for 2yrs., he then moved to Colorado where he completed his undergraduate work at the University Without Walls in CO as an undergraduate, this was a program designed for students who knew what they wanted and didn't fit in usual College classrooms. While at Loretto Heights College, he was placed in a special program. John was the only student ever to be accepted in the Third Eye Theatre and he helped rebuild it, worked as an actor, did lighting, and was a stage hand. The he was accepted at Williamstown Summer Stock where he wrote and performed Preludes & Interludes on Sitar for a play called Good Woman of Setzuan which was written by Bertolt Brecht. He then went to Occidental College in Eagle Rock, CA where he received his Master Degree in directing. He moved to California in 1975 to pursue his career in the film industry.
John's first project while in California, came from a friend who brought him on a set where he met Harry Woolman (Harry was a long-time Hollywood stuntman and F/X innovator, doubling for such actors as Clark Gable, Charles Laughton, William Bendix, and John Carradine). John spent 3yrs. with him as his assistant in Special Mechanical Effects. John then worked in many departments gaining experience. He eventually became a unit production manager, assistant director, and producer on commercials, music videos, corporate films and a documentary that he directed on location in Russia. John has B.A. Degrees & M.A. Degrees in Theater and Directing, he is listed as writer, producer, director, author, and he has awards from New York Critics Choice Awards for LONEWOLF, The Clio and Bending Awards for his Sunkist campaign. He has also won awards for Best of the West for directorial work, and a MTV Award for Best Music Video Concept for Glen Frey's "Smugglers Blues" music video. He is known in the industry as always being able to bring his projects in on time and within budget which makes him unique and a valuable talent.
With a huge list of credits, John has worked on over 200 commercials including Kellogg's, Dodge, Sunkist, Toyota, McDonald's, & for the Walt Disney Company. He has worked with cable channels such as, HBO, Showtime, and the Disney Channel. The list of A-lister's he's worked with range from Mel Gibson, Walter Matthau, Jack Nicholson, Madonna, Eddie Murphy, and Mel Brooks just to name a few. He has worked on film teaster's/trailers for films ranging from Spaceballs, Cocoon 2, A Few Good Men, & Poltergeist 3 just to name a few. He has also worked on live-action title sequences, laser disc projects, worked on Broadway Play Phantom of the Opera, & redesigned the 1993 TriStar logo. He directed the award winning film Short, THE WHITE GORILLA as well. John Callas is also an author of 'Survival Guide to Avoid Unnecessary & Wild Spending' and 'Secrets'. His film credits include 1977's YOUNG LADY CHATTERLEY, HAPPY HOOKER GOES HOLLYWOOD (1980), HILLS HAVE EYES 2 (1984), LONE WOLF (1988, as director), and the Number One show on FOX, BOBBY'S WORLD (1990-1998) which he won an Emmy nomination for. You can add a new film to John's credits, NO SOLICITORS which will be released later this year. From Writer to Producer to Director to Author – whatever the title is, John brings it to the table & delivers his best with kindness, professionalism, and grace. The best way to describe John Callas is for him to tell you himself: 'It's been one Hell of a ride getting to where I am today. It was not easy and often very frustrating, but since it was in my blood to write, direct, and produce films I had no choice but to push on against all obstacles.' – John Callas
With that said, here are my exclusive reviews of John's latest book and film.
SECRETS – SECRETS is a roller coaster ride from start to finish. Taking place during Nazi Germany, a secret agent's parents are assassinated and makes it his life's goal to find out who and why this happened? During his quest, he is assisted by a Black Ops agent, Christina, who is beautiful as well as smart to help him track down the clues and suspects. In a world now full of lies, espionage, war and family secrets – Joe and Christina are on the run against time as they must find out not just his personal "secret" about his parents, but the ultimate "secret"; Who is behind all of this great plan to take over the world? SECRETS takes place across years and time, from Germany to the Arctic to outer space! This is a MUST READ for anyone who loves suspense and adventure!
Bottom line: I found SECRETS to be an enjoyable read, exciting at times, and suspenseful. It is a cross between "Forces of Navarone" meets James Bond meets The Expendables! It kept my interest and left me wanting more. I look forward to a "possible" sequel because it does leave you hanging. I have a particular genre taste when it comes to books, but I am certainly glad I took the time out for this wartime adventure story.
I give SECRETS…5 out of 5 stars.
Available at: https://www.amazon.com/s?k=Secrets+by+John+Callas&ref=nb_sb_noss